Welcome to the ManaTEENs website!

Members: Click here
---
Who are the ManaTEENs?
The ManaTEEN club of Manatee County, Florida, is the largest local-based teen volunteer project in the United States. A program of Volunteer Services of Manatee County, Inc., the ManaTEENs provide community service for more than 300 non-for-profit agencies in Manatee county.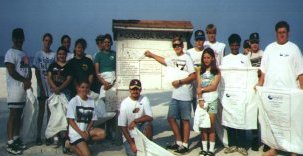 ManaTEEN members at Coquina Beach for the Adopt a Shore project
How do I join the ManaTEENs?
Any teen who is a resident of Manatee County enrolled in a public, private, or alternative middle school or high school can become a member of the ManaTEEN Club. To join, you must fill out an application. For an application, please e-mail Adraine LaRosa, Executive Director of the ManaTEEN Club for information on how to obtain one.
Adraine LaRosa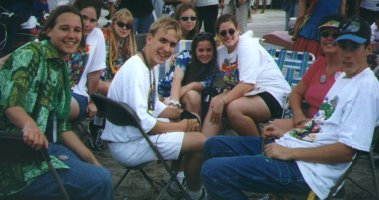 ManaTEENs at the Rubonia Mardi Gras
Why should I join ManaTEENs?
Many scholarships require community service hours (eg Bright Futures.) Working through the ManaTEENs these hours are easily attainable. The ManaTEENS do all kinds of projects, from painting houses to painting faces. To keep the Club running, and to keep members updated, monthly meetings are held at Manatee High School. Update! Arrangements are being made to meet at Lakewood Ranch High School and Palmetto High School as well as Manatee High School each month to better accommodate students attending schools in each area. Call the ManaTEEN office or ask your school's representative to find out when the next meeting will take place. If you would like to learn more about the ManaTEEN Club or Volunteer Services of Manatee County, call (941) 746-7117.
Big shoes to fill: ManaTEEN officer's shoes (Don't ask)
---
Attention members - check out Upcoming Activities
This page was added 1/28/98. Last updated 3/17/00.